The past year has been an extraordinary one for everyone.
For us at CMH the enforced closure gave us an opportunity to deliver 2,500 hot meals to those in need and has provided the catalyst and opportunity to refurbish the Masonic Hall in a way that has never arisen before.
Having made some extraordinary progress during the pandemic and we are now ready for your return so that we can all resume Freemasonry safely.
We began with repairing and upgrading areas that are not easily accessible when we are busy, like the three temples and their adjoining rooms but more particularly we had time to undertake major structural improvements. You probably know a canal runs under Churchill Way and this has been gently leaking into some parts of our foundations for years. We repaired the basement to inhibit these leaks and we strengthened the structure above at ground floor level. Safe emergency routes were improved towards the rear lane doors, and other areas normally invisible were cleaned up and repaired. But that was just the work that is out of sight.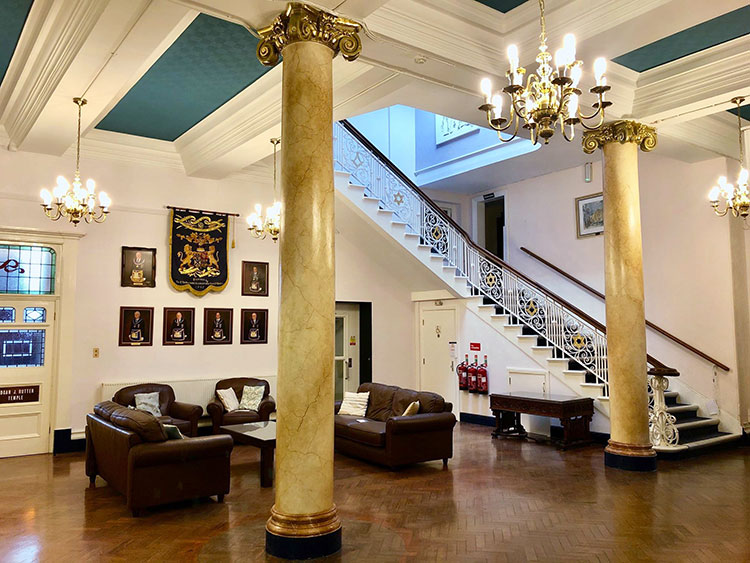 The front entrance corridor has been painted in suitable Masonic colours, and when you come into the central foyer you will see the majestic improvements to the pillars especially the gold leaf applied to the capitals, which are the crowning glory of each column. The pillars now resemble ancient stone columns, rather than plaster and their capitals have been finished in gold leaf. The same gold leaf has been used to adorn the Masonic symbols on the stairwell balustrade. New carpeting on the staircase is in rich dark blue and each step has the square and compass woven into the carpet, to our measurements.
At the turn of the stairs the former Ladies cloakroom has been completely redesigned to give a Victorian feel to this area and new sanitary wear and the latest fast hand dryers have been installed.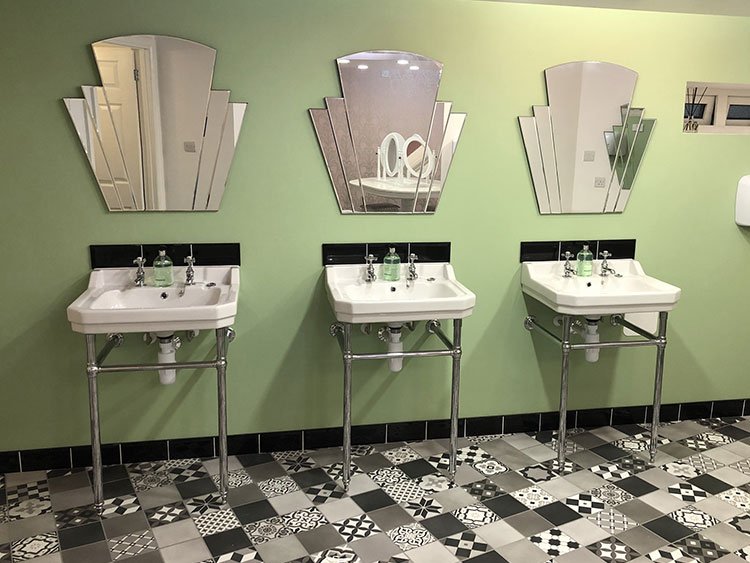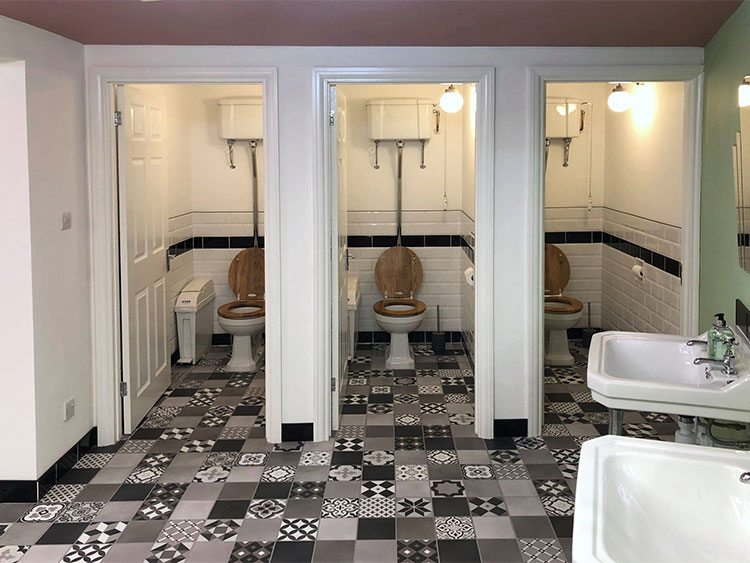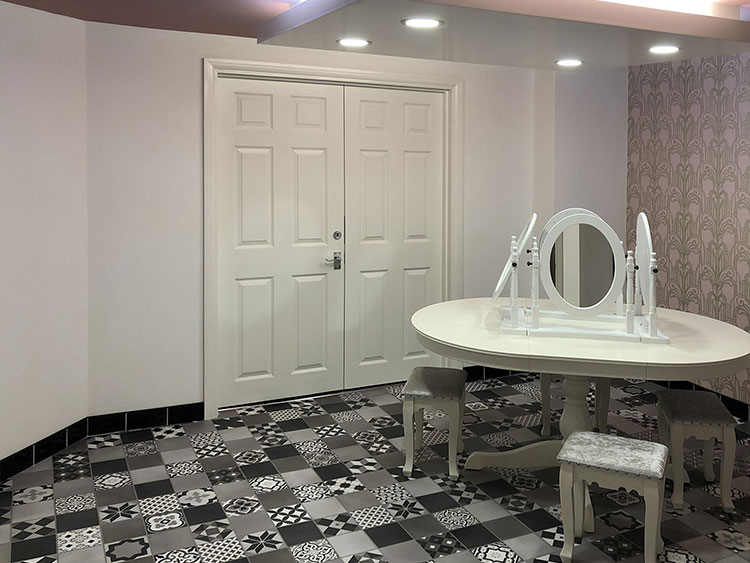 The kitchens were completely stripped of all apparatus. The floor covering was pulled up and laid with a new surface that complies with the latest food hygiene requirements, the stainless steel wall panels were replaced before we fitted a new cooker, re-installed sinks, stoves, ovens, grills and shelving. New extraction plant was installed to take air, steam and odours from above the cooking areas. Then refrigeration, and other storage units were re-installed. We certainly could not have done this so comprehensively if we had been cooking our usual 500 meals a week.
The three dining rooms remained much as before but benefitted from a coat of paint where necessary.
The bar area is due for decoration in the autumn of 2021. Meanwhile we have installed new tills so that three bar staff will not get in the way of colleagues. By having more glass storage shelves, we hope to avoid congestion behind the bar and speed service, which is so necessary when brethren emerge from their lodges at about the same time. A system to order drinks before a ceremony is available and should ease delays when we come out from the temples.
Our smallest meeting room has been converted to a museum and reading room. We now have three meeting rooms for hire, or for committees to use. These have been completely refurbished to a high standard so that external organisations will feel more comfortable.
You really should visit the Lord Swansea Temple to see the mural on the east wall, which is a unique feature in our Province.
The largest temple has a striking alteration with the two pillars moved to the west. These have been reworked with a stone look and some re-gilding, then fitted with new orbs. A new sound system has been installed. The entrance to this temple has had substantial restoration to create a stone effect for the entrance and to letter the archway. In due course it will be renamed the Duke of Kent Temple to recognise the Grand Master's 52 years in office.
The entrance to the Edgar Rutter Temple has been remodelled and we are planning the refurbishment of the temple itself soon.
Finally the offices have been painted, papered and re-carpeted which make for a more suitable environment to meet those booking weddings.
We could not have imagined the opportunity Covid-19 would provide. The incredible support of our active members has been immeasurable and has encouraged us to re-invent the way we work. E-mail is being used increasingly to book rooms, and report final numbers to the chef. This saves a lot of time as a person writing an e-mail would be far less likely to miss something, and it reduces the time our staff are occupied with phone calls.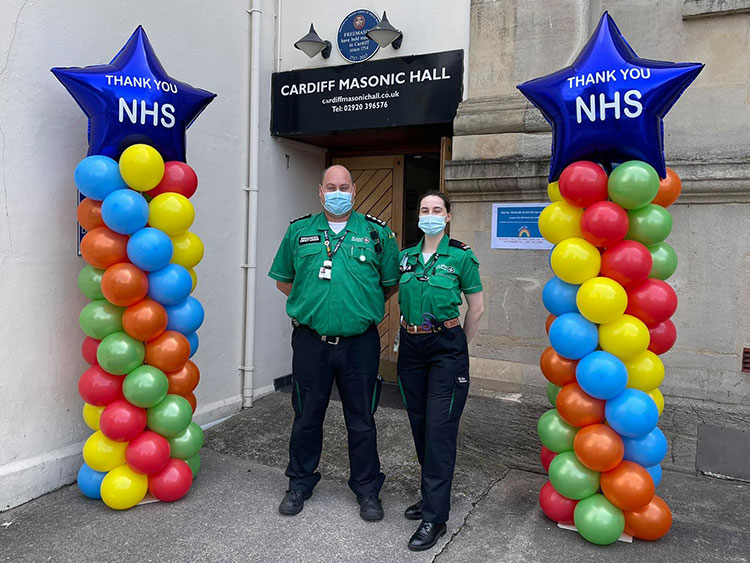 I am immensely proud of our team: volunteers, paid staff, directors and to members for their ongoing loyalty which is essential for the prosperity of Cardiff Masonic Hall.
I hope we can soon meet at a real AGM and not have to resort to Zoom this year. We'll see nearer the time but please pencil in to our provisional date of 14 September 2021. We look forward to seeing you.
Cardiff Masonic Hall is nothing without its members and you have been greatly missed. Brighter times lie ahead and we look forward to you coming 'home' again and seeing the many changes that have been made during the Covid pandemic.
Keep safe, keep well and keep in touch.
Naunton Liles
Chairman